Yes training will be on this Wednesday 20th and Friday 22nd April 2016 @ 5.45am sharp !
Hi all,
2016 B2B


A large Ciclismo contingent went west for this year's Blayney to Bathurst – and we all had a great weekend.
We started by getting 2 gold medals in the NSW State Hillclimb championships as I managed to hang on to my title and Pedro turned himself inside out to win MMAS2.  And well done to Dan for 4th by a few seconds.


Sadly the Federation didn't bother with presentations so we had a couple of our own during the afternoon, that evening and the next day.
Dan and Big Al Smith raced the criterium after doing the Hillclimb in the morning and went very credibly.  Al managed to hit the ground trying to corner at warp factor but got back on his bike to finish the crit despite his injuries.
Sunday was a beautiful day and warm for April in Bathurst.  Everyone did very well to achieve their goals – whether it was to finish under 3 hours (well done to all especially Pedro at 2:49) or under 4 hours (well done Prue and for organising Anthony as your domestique) or just to finish a hard 110km.
Dan, Rick and JT finished the 70km in under 2 hours and apparently it was very fast and furious this year.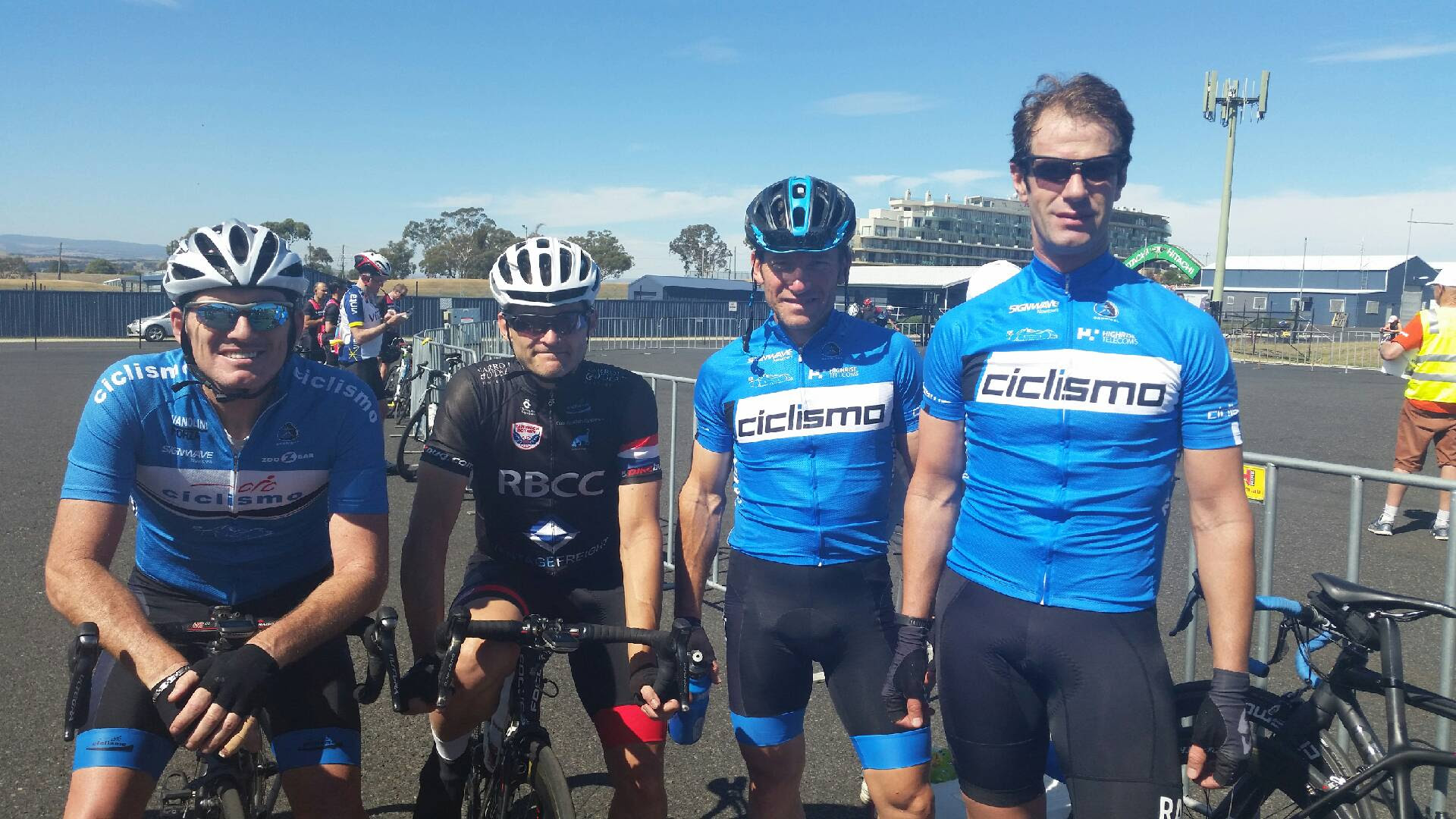 Special mention should go to :
Pedro for his gold medal and top 10 finish.  See his ride report below
The GC champions Dan and Al who did all 3 events – Hillclimb, Crits and road race
Al for completing the crit and riding the 110km with a Ciclismo blue bandage
All the B2B first timers
Ela for her great photography and there's a link to her shots below
JT for his interview on the start line and 5 seconds of fame
Rob for driving and looking after everyone's bikes
We will be back again next year.


Thanks for Ela for her great photography and here's the album.
B2B 110km – as told by Pedro Gomez
I would like to make a report of my race, but I don't know if I could tell the story as well as you guys do.
All I can say it was the best/special day of my "sport life" ever! better than when I was 12 yo and scored the victory goal against Atletico de Madrid.
I am so looking forward next year, this year I think that I had some options of getting into the final sprint but I did not know the last few km and I thought that I was God and then they smashed me badly 1km to go, lololol.
but I enjoyed!! Hell yeah! that I enjoyed!! riding and hanging with all those machines. well I lie I s**t my pants in the last descent, when I was doing 80's!! Scary cat
And we look forward to Pedro's perspective on next year's race when we all hope to see him on the podium.
Ciclismo Riders